Hail to the Chief
"Smitty" was born and raised in Nutley, NJ. Moved to the Jersey Shore in 1987 and purchased his first boat. For 25 years he took his family to vacation in Key West - hoping that they wouldn't catch on that SBI held their World Championship races there. In 1990 he was introduced to Scot Blue, the Director of MONOC and began volunteering as a safety boat for the races.

Always threatening to "someday" own his own race boat. He worked out of a pick up truck picking up piece work at Ocean Beach Marina doing fiberglass work. Soon after, began working for the Truesdales at the marina now known as Forge Landing Marina. In 1990, he took over the service department and Smitty's Marine came to be.

Over the course of fifteen years, Smitty paid an annual visit to a man known as "old man Kurt". He was the owner of the 33' Viper known as the Mary K. The Mary K raced many legendary Benihana races over the years. Never winning a single race. Smitty would make him an offer every year in hopes to one day buy that boat.

The Viper was one of three made. For shortly after production began there was a fire at the plant and the mold was ruined - never to be produced again.

In 1997, Old Man Kurt could no longer handle the boat. His arthritic knees and failing body would not allow for him to climb in and out of that old boat. So when Smitty came a knocking for his annual visit he was all too surprised when Old Man Kurt said "take It".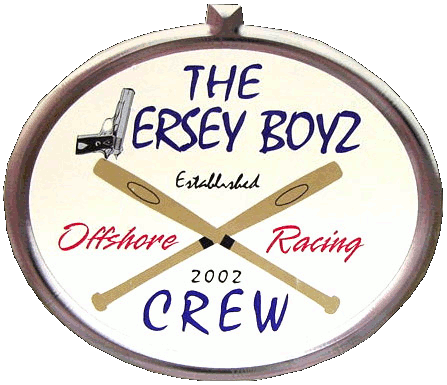 Copyright © The Jersey Boyz. All Rights Reserved
Web Design by Lucididee​


​​​

The Mary K was transformed into the purple and yellow dinosaur very well known as "WAZZUP". The P Class favorite. This father and son team took offshore racing by surprise.

Anthony was awarded Throttle Man of the Year by his peers in 2002. They won World Championship status 3 out of 4 years of racing. Smitty has been voted President of OPA and has launched offshore racing into a world of it's own. This will be the last season for the purple and yellow favorite, but stay tuned for what's ahead.

CONGRATULATIONS to Team WAZZUP for putting the Production Classes on the map and for making history!